H41 Interceptor with Nomex Nano Flex
$97.00 – $136.00
Unmatched breathability meets advanced technology with our H41 Interceptor Particulate Blocking Hood. This hood helps you maintain situational awareness while keeping you safe from potentially harmful carcinogens. Available in two styles: Total Coverage and Zone Coverage.
Certified to NFPA 1971.
Current Lead Times*
Orders of 1-100 total coverage hoods ship in 2 weeks.
Zoned coverage hoods ship in 4 weeks.
For pricing and lead times on large quantity orders, Request A Quote below.
Request a Quote
When A Hood is More Than A Hood
Protect your crew's vitality and welfare by staying proactive against unseen dangers: carcinogen exposure.
Our classic hood design keeps the flames and heat at bay. Particulate blocking hoods use those same fundamentals and pair them with modern filtration technology to bring you the latest in PPE protection. 
Low thermal conductivity

Naturally acts as an insulator while limiting the ability for heat to pass through.

High Filteration Efficiency

Hoods with filtration technology protect against smoke particles and potentially harmful carcinogens up to 4x better than classic hoods.

HIGH BREATHABILITY

Wicking and air flow allows heat to release away from your head making sure you're able to regulate your temperature.
We are proud to have pioneered the first particulate blocking hoods introduced to the fire service in 2016 in response to Fluorescent Aerosol Screening Test (FAST) results. Today, our H41 Interceptor Hood with Nomex Nano Flex remains the most sought after for its breathability, high thermal protection (TPP), and heightened situational awareness.
WHAT SETS THE H41 INTERCEPTOR APART
We carefully selected protective FR and particulate-blocking technology and paired them with a design that optimizes comfort.
This resulted in the benefits listed below:
Maintains excellent flame and heat resistance
Exceptional breathability and elasticity
Comfortable, thin, & lightweight
Provides a proper seal with your SCBA
Flatlock seams to prevent snagging
BUNDLE AND SAVE WITH THE INTERCEPTOR PACKAGE
Combine 3 health & safety-focused products for better protection that's already within your budget.
1. Particulate Blocking Hood
2. Alternative PPE 
3. Custom Turnouts 
Many particulate blocking hoods only satisfy the minimum NFPA requirement. Our Total Coverage H41 Interceptor Hood carries the particulate blocking technology throughout the entire hood including, the neck, ears, jawline, side, and top of the head, as well as the SCBA interface and bib.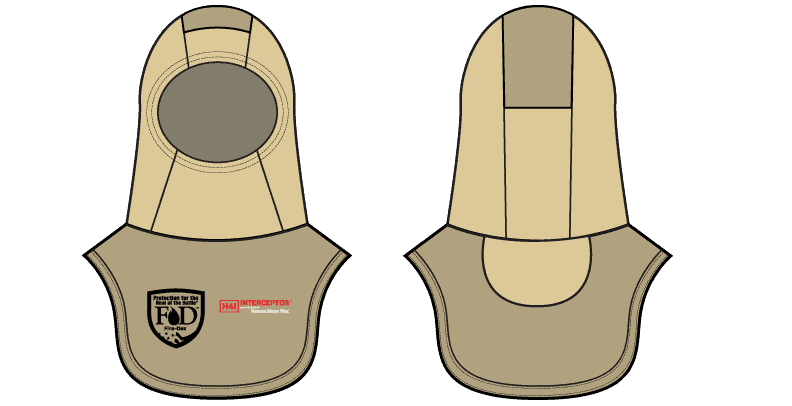 For those seeking great protection at a lower price point, we offer a zone coverage option that focuses primarily on the highly-permeable areas of your skin, around your face and neck. This hood design meets the NFPA requirement for minimum area of coverage.
20% PBI®/ 80%LENZING™

Two layers of lightweight PBI® high-performance knit fabric protect the particulate barrier's integrity while contributing to the overall thermal & flashover protection. PBI®, best known for its strength, helps minimize shrinkage and brittleness.

 

LENZING™ is an inherently flame-resistant fiber that is commonly blended to enhance protective properties, improves moisture management and increases fabric comfort. 

DuPont™ Nomex® Nano Flex

Cushioned between two layers of PBI®, the Nomex® Nano Flex acts as the filtration system that reduces potentially-harmful particles from reaching skin contact. Nomex® Nano Flex is lightweight and flexible, making it a perfect barrier that doesn't interfere with situational awareness or compromise comfort.
MATERIALS THAT MAKE THE DIFFERENCE
The H41 Interceptor with DuPont™ Nomex® Nano Flex panel construction provides you with the right coverage and a secure fit, reducing bulk under the chin and back of the neck.
This 3-layer hood features an inner layer of DuPont™ Nomex® Nano Flex that's sewn between 2 layers of 6.0oz PBI®/Lenzing (20%/80%). 
↓ TAP EACH FEATURE TO LEARN MORE ↓
Inspection Recommendations
Shipping provided to U.S. states only
Product Dimensions: 9.5" x 14.5" x 0.125"
Shipping Dimensions: 9.5" x 14.5"
Shipping Weights: 0.5lbs
We welcome returns and exchanges for online orders within 30 days. For full details, read our return policy.
*lead times are subject to change.